BID OPENING EXERCISE: Expression of Interest (EoI) for the Selection of Consultants
The Federal Roads Maintenance Agency on 25th March, 2019 held a bid opening exercise in accordance with the request for Expression of Interest (EoI) for the selection of consultants to handle the following:
1. Deployment of a Responsive but Organization-wide Monitoring and Evaluation (M&E) System on Digital platform to the Federal Roads Maintenance Agency (FERMA); and
2. Engagement of consultant for the production and airing of FERMA public enlightenment television programme tagged 'Eye on the Road.'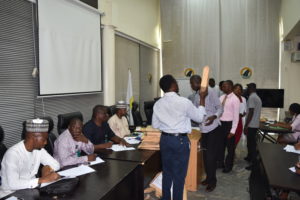 The Head, Procurement Unit, Engr. (Mrs.) Illemore, represented by Deputy Director, Procurement, B.H Damaturu in an opening remark expressed the Agency's desire "in selecting the best suited consultants" and her "focus on ensuring best practices as FERMA is "deeply committed to prompt quality service delivery that meets world best practices." He further assured that the "principles of selecting consultants as contained in the Public Procurement Act (PPA) 2007 and other regulatory manuals will be take precedence during the evaluation process" as well as ensure that "transparency, competitiveness and fairness will prevail during the consideration of the submitted bids" thereby bringing to bear all the eligibility criteria in the evaluation process as stated in the advert.
With the commencement of the exercise proper, three(3) companies expressed interest in the production and airing of FERMA public enlightenment television programme 'Eye on the Road' while ten(10) companies expressed interests in the Deployment of Responsive but Organization-wide M&E System Digital platform.
Representing some external observers were Nasiru A. Momoh from Civil Society Legislative Advocacy Centre (CISLAC) and Kenneth I. Olabamiji from Cornerstone Liberty and Love Foundation (CLF).