FERMA Completes Owerri-Okigwe-Ihube Road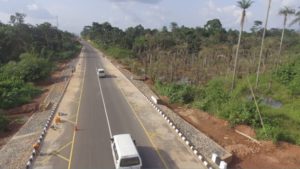 The Federal Roads Maintenance Agency (FERMA) has completed Owerri-Okigwe-Ihube road, giving motorists plying the road a sigh of relief after the collapse of the road some months ago.
The road which is a heavily trafficked Trunk 'A' road traversing neighboring States and serves as a major link to Okigwe, Umuahia- the Abia State capital, some other towns in Imo, Abia and Enugu States respectively was characterized by accumulation of water in natural flood plains resulting to increase in surface run-off. The poor condition adversely affected the underlying structure of the road leading to constant failure of the pavement.
The Federal Roads Maintenance Engineer (FRME), Imo State, Engr. Emeka Maduagwu said "life appears to be returning to the area with FERMA Direct Labour Intervention; raising of low-lying stretch on Km. 32+000 along Owerri Okigwe road, Imo State." Emphasizing the importance of the road, the FRME stressed that over 80% of aggregates used in construction works in the State are hauled through the route. He added that five culverts were constructed to subsequently check the flooding arising from overflow of a nearby river.
Since the completion of the road, the Agency has received accolades from stakeholders, motorists and commuters, commending the Federal Government and FERMA for the timely intervention.
The scope of work carried out on the road are: provision of boulders for stone pitching work; scarification of failed asphaltic sections; removal of unsuitable materials; provision of sand filter layer. Others are: provision of 900mm diameter ring culverts; provision of crushed stone-base; prime coat on carriageway and asphaltic concrete on carriageway.
The FRME recalled that the Managing Director, Federal Roads Maintenance Agency, Engr. Nuruddeen Rafindadi, paid an inspection visit to some federal roads in Imo State, including the just completed Owerri-Okigwe road and expressed satisfaction with the level of work done so far.