FERMA LABORATORIES: Ensuring Quality Control via Material Testing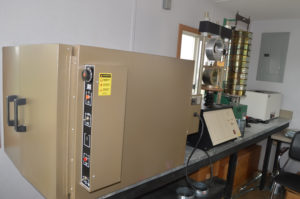 The act of actualizing a mandate (vision) must be deliberately and intentionally executed without which all steps/actions taken pertaining to a venture might only amount to efforts in futility.
Relating the above analogy to the Federal Roads Maintenance Agency (FERMA), the organization, via her endeavours, deemed it fit to include in her organizational structure the Design, Research and Development Division. The Division, under the Planning and Engineering Services Department (P&ES) is saddled with:
Providing both technical and highway research works;
Providing road products and chemical analysis;
Undertaking quality control and quality assurance for all FERMA projects;
Providing inputs on polymer materials and other road maintenance products;
Providing geological services and general research and innovations;
Conducting research into road products, chemical analysis and innovations;
All with the aim to ensure quality and improve road maintenance.
With these enormous responsibilities and the need to remain in tandem with the mandate, deliberate steps were taken to establish laboratories in the zonal offices. It became necessary as it was obvious that the importance of adhering to specifications, testing of materials before deployment to site and ensuring the quality of maintenance materials could not be over emphasized. This, has invariably, aided FERMA's adherence to globally accepted road maintenance practice.
The Agency, over the years has carried out exercises in this respect with the establishment in 2014 of thirteen (13) nos. laboratories in various zones. Recently, laboratory training/workshop exercise was carried out in Sokoto State, the North-West zone. Also, regular inspection visits are embarked on to constantly ascertain the optimal performance of the laboratories.
Nine (9) out of the Thirteen (13) nos. labs are mobile. They are located in Bauchi, Oyo, Kano, Enugu, Rivers, Benue, Lagos states and Two (2) in Kuje and Gwagwalada in the Federal Capital Territory (F.C.T). The other four (4) are stationed in Edo, Sokoto, Cross-River, and Yobe states respectively.