Niger State Governor Seeks FERMA Intervention on Roads Maintenance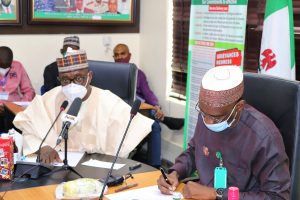 The Executive Governor of Niger State, His Excellency, Abubakar Sani Bello has appealed to the Federal Roads Maintenance Agency (FERMA), to look into the deplorable condition of Federal Roads in Niger State with the aim of maintaining them to ease the movement of users, goods and services across the State.
His Excellency made this appeal today 26th November, 2020 when he visited FERMA Headquarters in Abuja on a courtesy call. He decried the deplorable state of some roads in the State, saying that the users of roads in the State experience tough times in the last rainy season leading to accidents and giving opportunity to bandits to operate without hindrance.
The Governor urged FERMA to as a matter of urgency intervene on Minna-Tegina, Tegina-Kontagora, Jebba-Mokwa, Mokwa- Tegina to make the roads motorable.
The Managing Director/CEO, FERMA, Engr. Nuruddeen Rafindadi, FNSE, in his remarks said he was honoured by the visit of the Governor, adding that the demand to intervene on maintaining and putting Federal roads in the State in good condition for easy movement was valid. He said, ''I believe that the roads in Niger State should be of priority because of the importance of the State to the country''.
Rafindadi said, ''we may not be able to solve all the road problems in the State, but we will identify critical sections and take immediate care of those sections to ease the users movement''.
The MD revealed that arrangements has been concluded by the Agency to commence work on some roads in the State under the COVID-19 Intervention projects. He mentioned among others the urgent repairs of Kontagora-Tegina Road, special intervention along Bida-Zungeru Road, General Maintenance Repairs of Mokwa-Kainji Road, Special Repairs of Zungeru – Tegina Road, Special Repairs of Zungeru-Minna section of the Federal road along Zungeru- Minna-Lambatta Road and General Maintenance of Kontagora-Chifu-Rijau- Kebbi S/B in Niger State.
The MD said monitoring and maintenance of Federal roads is the business of FERMA, saying that the Agency will continue to make roads across the country motorable to all road user within the limit of funds that is available to the Agency. He said he appreciated and cherished the cooperation from the State, while hoping for more to help FERMA succeed in its work.
His Excellency, responding to questions from the media said he was very pleased with FERMA because he discovered that all he requested for, has already be planned for and ready to be executed by FERMA shortly.
He said, ''The MD is doing well, I hope he will be able to get enough funds to work, I am complaining of 2300 kilometers, he has over 36,000 kilometers to worry about, I am glad that he has given Niger State the required attention.