Category C Part 2 Bid Opening: FERMA Assures Level Playing Field
The Federal Roads Maintenance Agency (FERMA), has assured all contractors bidding for Category C Part 2 – General Maintenance Repairs of some Federal Roads nationwide, of a level playing field.
This was disclosed by the Managing Director/CEO, Engr. Nuruddeen A. Rafindadi (FNSE), represented by the Director, Procurement, Engr. (Mrs.) B. A. Ilemore, at the bid opening exercise in Abuja on the 26th of September, 2018.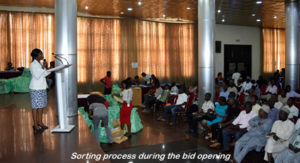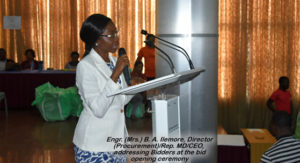 The Agency had advertised in the Federal Tenders Journal, Daily Trust and The Nation newspapers of Monday 6th August, 2018, in which prospective bidders were invited to tender for the 2018 appropriation projects.
Engr. (Mrs.) B. A. Ilemore, while addressing bidders at the Rockview Hotel venue of the ceremony, said "we assure you that the Agency would bring to bear all the relevant sections of the Public Procurement Act (PPA) 2007 in dealing with this procurement process. All submitted bids would be accorded all due considerations based on merit and the eligibility criteria as stipulated on the advert and in accordance with the provision of the PPA 2007".
The Agency assures that fairness, transparency and competitiveness would be our watchword in the evaluation and award procedures.