FERMA OPENS BID FOR CATEGORY C PART 1
FERMA OPENS BID FOR CATEGORY C PART 1
The Federal Roads Maintenance Agency (FERMA) opened bid for category C, Part 1(Lot 1-183) for the General Maintenance repairs of some Federal roads nationwide. The exercise took place on 21st September, 2018, at the Rockview Royale Hotel, Wuse II, Abuja.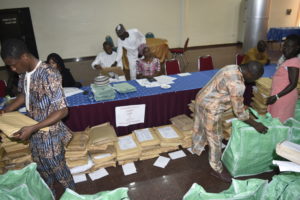 Assuring bidders that the exercise will be free and fair, Engr. (Mrs.) B. A. Ilemore, Director/Head, Procurement Unit, representing the Ag. M.D./C.E.O FERMA, Engr. Nurudeen A. Rafindadi implored for patience as the opening proper involved sorting, calling/reading out the major details of bidding companies and recording, all happening simultaneously at the different calling points.
As it is the custom of the Agency and in adherence to the requirements of the Procurement Act 2007, some Civil Society Organizations such as Initiative in Civil Transparency, Cornerstone Liberty and Love Foundation, Advocacy for Transparency Network, Civil Society Legislative Advocacy Centre (CISLAC) and Nigerian Society for Engineers (NSE) were all present to witness the exercise.

Categories C, Part 1(Lot 1-183) set of bids were differentiated as follows for ease of opening.
Lot: 1-20 GM/18-42 to GM/18-61 (calling point 1); Lot: 21-40 GM/18-62 to GM/18-81 (calling point 2); Lot:41-60 GM/18-82 to GM/18-101 (calling point 3); Lot: 61-80 GM/18-102 to GM/18-121 (calling point 4); Lot: 81- 100 GM/18-122 to GM/18-141 (calling point 5); Lot: 101-120 GM/18-142 to GM/18-161 (calling point 6); Lot:121-140 GM/18-162 to GM/18-181 (calling point 7); Lot: 141-160 GM/18-182 to GM/18-201 (calling point 8); Lot: 161-183 GM/18-202 to GM/18-224 (calling point 9).