ROAD SEAL SEEKS PARTNERSHIP WITH FERMA
ROAD SEAL SEEKS PARTNERSHIP WITH FERMA
A delegation from a modern road construction company of Netherlands, Road Seal Nigeria, an established business in road construction, utilizing smart technology on 19th September, 2018, paid a visit to the Managing Director/C.E.O., Federal Roads Maintenance Agency (FERMA), Engr. Nuruddeen A. Rafindadi.
The aim of the visit was to partner the Agency in improving road infrastructure using the company's product road seal technology and equipment.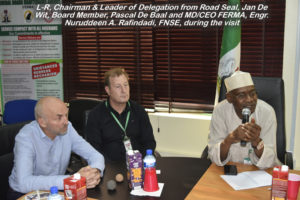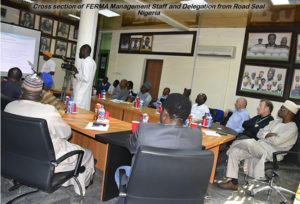 The benefits therein were elaborated on as it is a leading product for:
• Permeability improvement and erosion control,
• A soil surface can be extensively strengthened and used for stabilizing any type of soil base.
• It is an environmentally friendly, safe alternative to traditional road building technologies.
It was suggested that a pilot scheme be embarked on, in order for the Agency to have a first-hand experience before deciding on accepting to utilize the technology.