FERMA OILS APWEN ENGINEERING STRIDES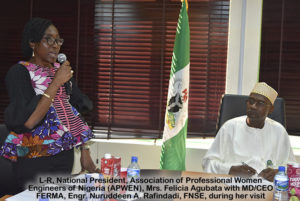 FERMA OILS APWEN ENGINEERING STRIDES
The Managing Director and Chief Executive Officer, Federal Roads Maintenance Agency, (FERMA), Engr. Nuruddeen Rafindadi (FNSE), recently in Abuja, received the National President, Association of Professional Women Engineers of Nigeria (APWEN), Mrs. Felicia Agubata, and her team on a courtesy visit to solicit for FERMA's partnership geared towards encouraging the young Engineers of Secondary school educational stage and advance the development of female practicing engineers in all facets of the economy.
The initiative or rather the visit becomes necessary to tap from FERMA's vintage disposition in engineering services and developmental programmes for viable economy.
The MD/CEO, Engr. Nuruddeen Rafindadi, a Fellow of the Nigerian Society of Engineers (FNSE), and Association of Consulting Engineers of Nigeria (ACEN), a seasoned engineer and an astute administrator with intellectual prowess and excellent performance at FERMA attests to his wealth of experience in engineering and diverse human endeavours. He welcomed the APWEN National President and her team and avered his unflinching support to the association's goals and aspirations.
Earlier, Mrs. Felicia Agubata, posits that FERMA is a key enabler and key player in Nigeria economy especially in road transportation. She appreciated the Agency for her giant stride, and major contribution to nation building and continued engagement in the APWEN ideals.
The APWEN President explained that APWEN is a non-governmental association which since inception in 1982, has advanced the course of encouraging young engineers into engineering principles and advance development of practicing female engineers, bringing to bear engineering principles to enhance economic wellbeing and development of Nigeria.
APWEN aims at catching the young engineers through well-articulated programmes and policies, execution and evaluation which provides platform for female student engineers and practicing ones to excel and attain an enviable height in their chosen field of endeavor. APWEN programmes spans through various aspects of economy to reach out to female engineers – young or old.
The association wielding comb – combs through organization, both private and government for the female engineers to enhance, encourage and equip them to excel and play outstanding role in building an economically healthy nation.
The Federal Roads Maintenance Agency's MD/CEO, Engr. Nuruddeen Rafindadi, having had one of his own Management staff, who was a past National President of APWEN in the person of Engr. (Mrs.) Iniobong L. Usoro, received the team warmly. The APWEN President specifically called on FERMA to partner in their annual subvention in introducing engineering programmes across the six (6) geopolitical zones. The programme runs in secondary schools from JSSI – JSSIII to mentor girl child in engineering practices.
Mrs. Felicia Agubata indulged FERMA to evolve diversity and inclusive government and prayed FERMA to grace APWEN upcoming 25th anniversary for 26th – 28th September, 2018.
Engr. Rafindadi accepted the invitation to attend the APWEN 25th anniversary celebration billed for September, 2018 at Victoria Island, Lagos. He also assured them of FERMA participation. The MD/CEO encouraged and charged the Female engineers to remain committed to the engineering principles which according to him, "Engineers are trained to proffer solution to problems and challenges" and commended the association's achievement in embracing girl child mentorship programmes for healthy nation building.